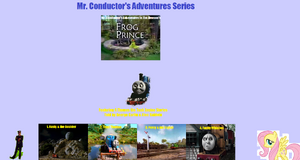 Mr. Conductor's Adventures in Jim Henson's Frog Prince is the 148th crossover movie in Jim Henson's 1971 movie The Frog Prince featuring one season 2 story & one season 3 story told by George Carlin & one season 5 story & one season 6 story told by Alec Baldwin And Leo Howard
Thomas Stories told by George Carlin and Alec Baldwin.
From Britt Allcroft Studios & Jim Henson Productions
Thomas Stories And Ultraman Tiga Stories:

Edit
Rusty & The Boulder (Alec Baldwin)
Trust Thomas (George Carlin)
Percy & The Signal (George Carlin)
Faulty Whistles (Alec Baldwin)
Human Collecting (Leo Howard)
Guest Stars:

Edit
Sirena
Sofia
Lacey
Corey
Matt
Quote 1:
Fluttershy: What can I do, Sir Robin?
Jennifer Hale: What Do You Want Us To Do About It Angel?
Sir Robin: Fluttershy you go with Kermit to get the frogs we may need your help & Mr. Conductor's too because with Taminella as queen she might have some evil plans for you
Angel: Jenn Hale You Go With Tyler To Get The Other Anthromophic Characters With Spike Having His Own Party He Might Even Hypnotize You And Make You Think You Are A Chicken
Fluttershy: That... Big,,, Dumb... MEANIE! Count me in Sir Robin!
Jennifer Hale: THAT FREAK! Can Do Angel Over And Out.
Tyler: You Ready Sofia
Sofia: Ready
Tyler: Let's Do It
ALL: KAMEN RIDER! UNLEASH THE POWER! IT'S MORPHIN TIME PTERADACTLY! RPM GET IN GEAR DINO THUNDER POWER UP HA! IT'S MORPHIN TIME DRAGONZORD!
Quote 2:
Mr. Conductor: When Sir Topham Hatt inspected the damage, he decided to close the mine. Then he looked at Boulder.
Sir Topham Hatt: We should have left this part of the island alone.
Mr. Conductor: They move Boulder to a hill close by the yards. Rusty is sure that on a clear night, it is gazing up into the mountains, to where it once used to stand proud and silent. I wonder if Rusty is right. Don't you?
Tyler: Yeah
Sirena: Let's Follow Em.
Sofia: Let's Go
Mr. Conductor seems to have know Taminella Grinderfall back when he was in Magic School
Tyler Beated Kilokahn Before He Alied With Spike
Even Though Alec Baldwin tells the stories Rusty & the Boulder & Faulty Whistles George Carlin blows the whistle to start the stories Just Like Tyler Creates Horror Smoke To start Ultraman Tiga Stories Just Like Mr Conductor
Rusty & the Boulder has the title card from the Thomas Video Spills & Chills
Percy & the Signal has the title card from the Thomas Video Thomas & his Friends Get Along
Faulty Whistles has the title card from the Thomas Video Percy's Chocolate Crunch & other stories